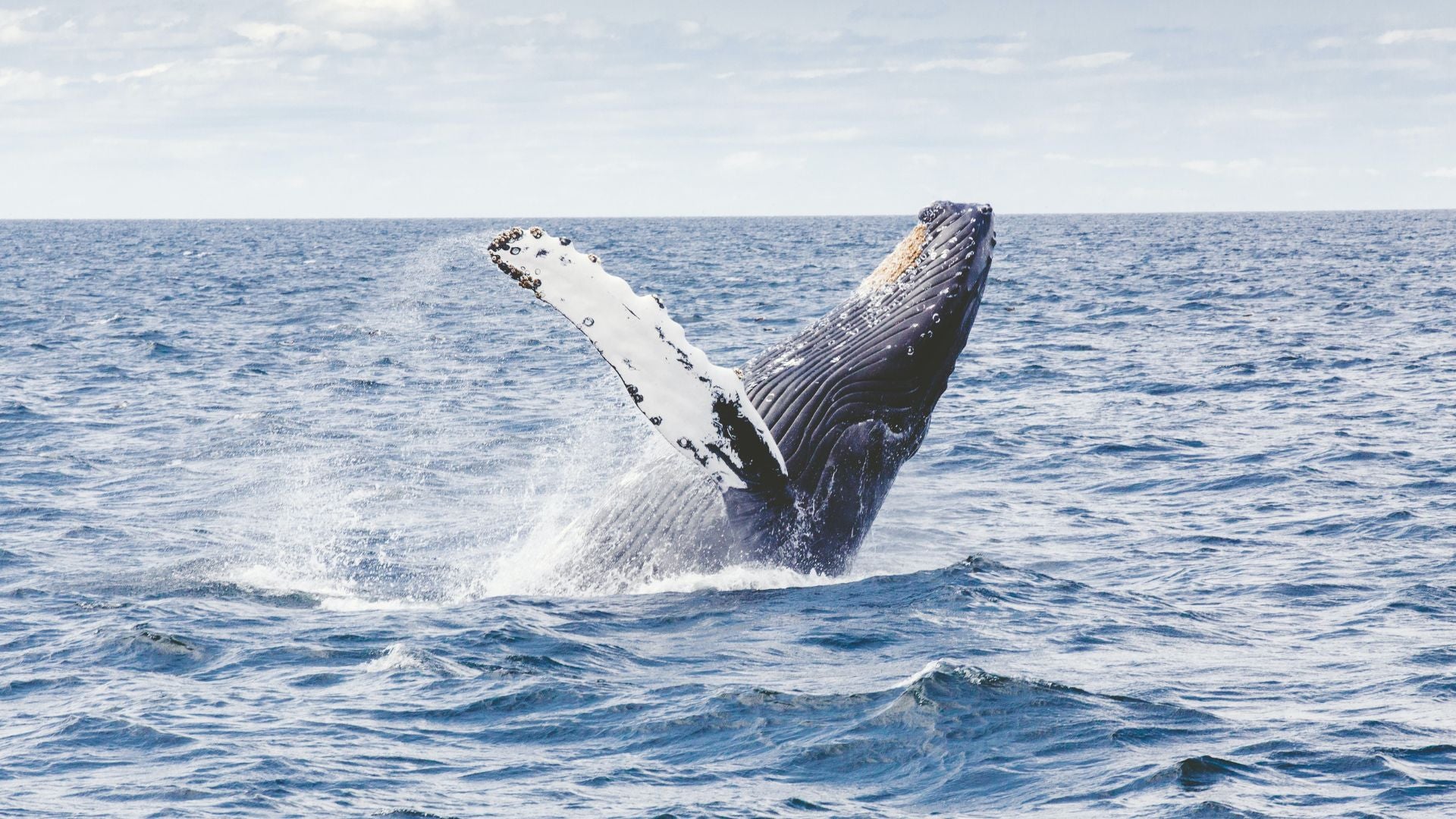 Is there anything more iconic than the image of a breaching or tail throwing whale? To see such an enormous, majestic animal arch and lift its torpedo-shaped body out of the water - head and fins - or slap its fluke on the surface, is equal parts beautiful and breathtaking.
Whales are one of the world's largest marine mammals, and despite the fact that these graceful, gentle giants inhabit the sea, we lucky humans can get a front row seat to their annual migration along Australia's coast. You just have to know where to look.
Between May and November each year, you can add whale watching to your list of spectator sports. Most species will move north along the east coast from June to August, before returning south around September to November.
You can spy Southern Right Whales off the shores of South Australia, Victoria and Tasmania, follow Humpbacks as they journey north from New South Wales to Queensland, or watch Orcas play off the coast of Western Australia. 
So, it's time to dust off the binoculars, pack your camera, sunnies and sunscreen, and head to your nearest vantage point for an Aussie whale watching adventure…
1. Hervey Bay, QLD
An approx. 3.5 hour drive north of Brisbane, Hervey Bay's picturesque coastline and small town charm makes it a popular holiday destination. More excitingly, however, is the fact that it is widely regarded as the Humpback Whale watching capital of the world.
Unlike most other locations, where they just swim up and by from Antarctica, in Hervey Bay, they always stop over for a few days.
Anywhere between July and October is your best chance to catch a glimpse, as they congregate, rest and play in the waters near Fraser Island. If you book a tour and head out on a cruise, you might even get within mere metres of the curious creatures!
2. Eden, NSW
Nestled on the sparkling Sapphire Coast, 5 hours drive from Sydney, the quiet community of Eden comes alive each Winter and Spring to the sound of whales spouting and cameras clicking.
Known for its long history with whales, Twofold Bay (nicknamed "Humpback Highway") will provide plenty of shoreline spots. Coming in with calves in tow, Humpbacks are often joined by Baleen Whales and Toothed Whales along the coastline of the Ben Boyd National Park and the Green Cape Lookout.
Between viewpoints, you can learn the story of Old Tom the Orca at the Eden Killer Whale Museum or drive the Killer Whale Trail. And if you're there in October, be sure to explore the annual Eden Whale Festival, which plays host to a colourful parade, photography, film & music, local produce and more. 
3. Jervis Bay, NSW
4 hours north of Eden, you'll come to the Shoalhaven region of Jervis Bay. Known for its turquoise waters, white sand, and abundance of wildlife, it's also a popular place to try swimming with dolphins in summer and start whale watching in winter.
Over 30,000 of them come through NSW's South Coast. From a bird's eye perspective on the headlands and clifftops, to water level views from the beach or a boat, there are lots of different ways to see them.
Humpback Whales are the most common to spot, but you can get Southern Right Whales, Minke, Fin and Sei Whales too. There have also been sightings of Blue Whales and Orcas. 
4. Warrnambool, VIC
Along Victoria's famous Shipwreck Coast and Great Ocean Road, 3 hours out of Melbourne, you'll get to the south-west city of Warrnambool. Part seaside sanctuary, part urban metropolis, it's a mix of sheltered beaches, parks, shopping strips and residential estates.
For hundreds of years, Southern Right Whales have been temporarily calling it home, with the females coming in annually to Logans Beach (dubbed "the nursery") to bear their young. Commonly swimming within a 100m or so of the shore, you're bound to get a good look at them from the beach, and an even better view from a purpose-built platform above the sand dunes.
If you're up for travelling a little bit further for another look, Nuns Beach and the Wade Street viewing platform (1 hour up the road in Portland) have free public binoculars on-site.
5. Victor Harbor, SA
1 hour south of Adelaide lies one of the most stunning seaside towns in Australia, Victor Harbor. Bordered by beautiful beaches, granite boulders, rocky cliffs and rivers, Victor Harbor is the ultimate outdoor playground. Home too to the SA Whale Centre, it's no wonder this is one of the best places to whale watch in winter.
From a charter boat, you'll see frolicking Southern Right Whales up close and personal, with Australian Sea Lions, New Zealand Fur Seals and pods of Bottlenose Dolphins also frequenting the Fleurieu Peninsula this time of year, from Sea Bay and Wright Island, to Kings Beach and Shark Alley.
You can see all the action from shore too, from the likes of The Bluff and Encounter Bay, as well as lookouts nearby in Middleton Point and Port Elliot – just check out the Whale Sighting Log first.
6. The Great Australian Bight Marine Park, SA
If crossing the Nullabor is on your bucket list, add a coastal stop south at the Great Australian Bight Marine Park to it as well. Approx. 12 hours' drive west-northwest of Adelaide, this large oceanic area is isolated and difficult to access in parts, meaning the environment has remained mostly unspoiled and undisturbed for decades.
It's also a significant spot for endangered Southern Right Whales, as it's where they come each year to calve, so to protect them, all vessels are prohibited from entering the waters between 1st May – 31st October.
There are many facilities and viewing platforms around the Head of the Bight for visitors to whale watch from a safe distance though, and Australian scientists often observe and document their behaviours and breeding activity from many of these vantage points. 
7. Bremer Bay, WA
Drive 5.5 hours south-west of Perth and you'll come to the small township of Bremer Bay. Home to the largest known gathering of Orcas (aka Killer Whales) in the Southern hemisphere, it's the only place in Australia where you are guaranteed to see one.
From January - April, over 150 panda patterned Orcas congregate to feed in Bremer Canyon, as well as Sperm Whales, Pilot Whales, Beaked Whales and Sunfish. From July - October, Southern Right Whales (and occasionally, Humpbacks) arrive and settle in sheltered waters.
They've been seen from Bremer beach, Trigelow beach and Point Ann, but it's best to join a boat tour, as they can be difficult to spot from shore.
Broome, WA
For many, Broome is a quintessential slice of Australiana. 4X4s on dusty red dirt roads, camel rides on glistening golden beaches and diving in an aquamarine ocean. But also, whale watching.
The Kimberley's tropically warm waters are a hit with Humpback Whales, with numbers in the region nearing 40,000 each year. Here they can mate, calve and take shelter by the islands and reefs of the Buccaneer and Bonaparte Archipelagos. Throughout July, August and September, local ocean charter operators average 7 Humpback encounters per tour!
Broome is the perfect place to see them in the wild, or catch a glimpse of the rare Australian snubfin dolphin! They also share the sea with manta rays, turtles, dugongs and sea snakes. 
9. Great Oyster Bay, TAS
A 2.5 hour ride on the Tasman Highway from Hobart, Great Oyster Bay on the Freycinet Peninsula is a very scenic stretch of coast.
Beloved for its rugged mountain views, pink granite cliffs and secluded, white-sand beaches, it's no surprise that whales like to hang around for extended periods.
Between May and September, you can see Humpbacks and Southern Right Whales coasting through the clear, teal waters. 
10. Bruny Island, TAS
Hop on a car-ferry and take a 20-minute trip from Hobart and you'll find yourself on Bruny Island – the Tasmanian wilderness and its wildest! With dozens of bushwalks and beach strolls already carved out for you, it's just a matter of picking a picnic spot and getting out the bifocals. Or better yet, taking a whale watching cruise.
Over the past few years, Humpbacks, Southern Right Whales, Orcas and even Blue Whales have danced around Bruny Island's deep blue waters. Although just passing through on their journey north, they have been known to stop and rest in Adventure Bay – with some staying for up to five weeks.
The whales can be spotted between May - July, and September - December.
Comments (0)